Rebecca Chesney
Particulate Matters
In Certain Places 2015 - 2017
Air quality is an issue that affects us with every breath we take. During the project I looked at air quality and pollution in relation to our daily routines, how it affects our health and the environment and how we engage with this invisible problem.
Using the latest innovations in air quality monitoring at the time, I collected data measuring the levels of fine particulate matter (PM) during walks in Preston (February 2016), Glasgow (April 2016) and London (May 2016). Volunteers helped me gather this information by recommending routes and accompanying me on the walks. The PM monitors were devised by Dr Stefan Reis from the Centre for Ecology and Hydrology in Edinburgh with Dr DK Arvind from the University of Edinburgh.
Preston Bubble Bus
Conversations with the project volunteers revealed the desire for many people to change the way they travel. The concept for the Preston Bubble Bus came from these conversations.
The idea is for a small fleet of 100% electric, zero emissions shopper buses to run on three routes around the city centre:
Route 1 = University Circle
Route 2 = Rail Station - Hospital Line
Route 3 = Deepdale Circular
Running 7 days a week from 6am until midnight and costing only 50p for a single fare, the Preston Bubble Bus will provide a regular and affordable way to travel short distances. Using renewable energy supplied from a bank of solar panels installed on the roof of Preston Bus Station the buses also provide a cleaner more sustainable way to navigate the city.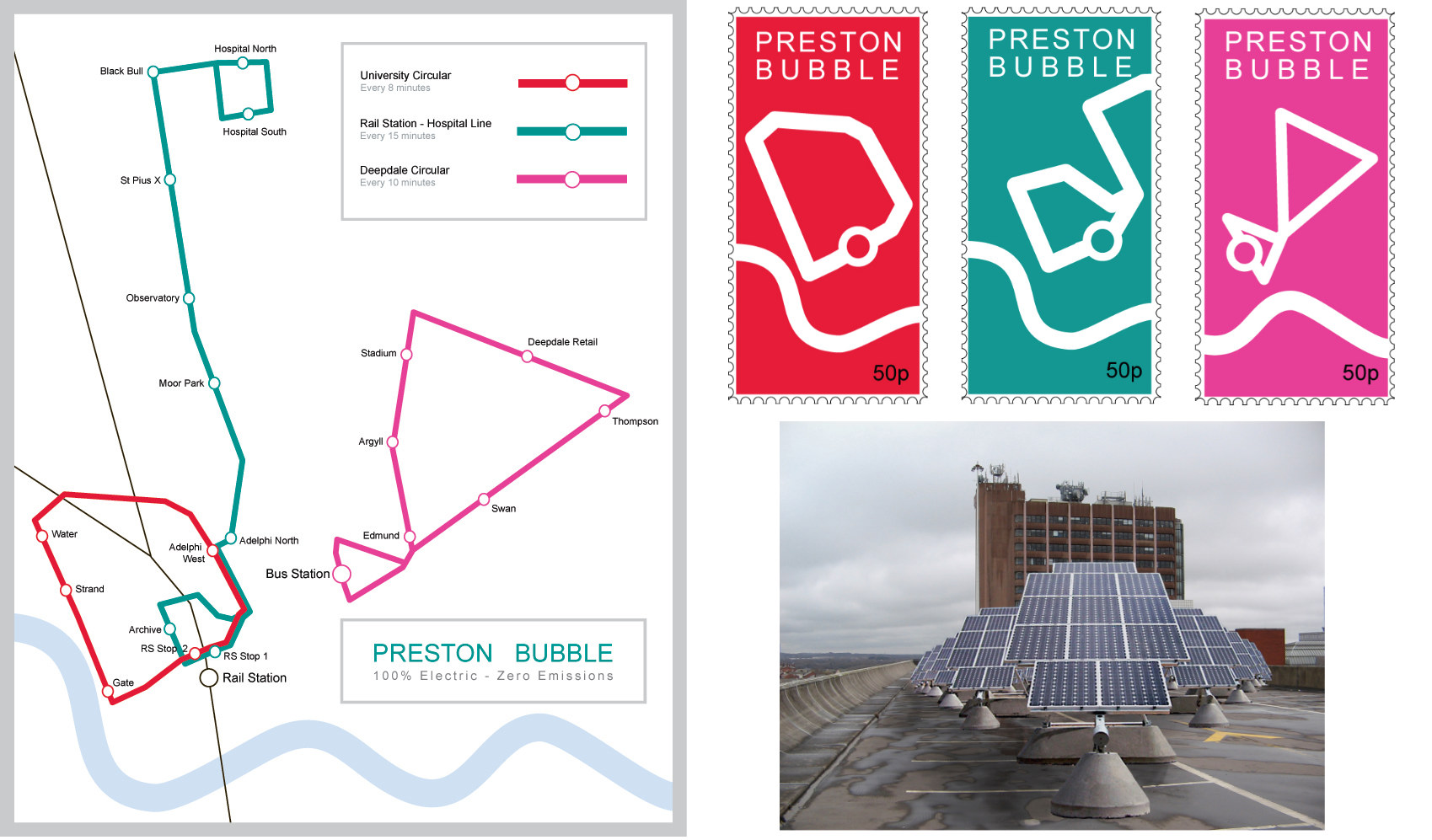 Left:
Preston Bubble Bus
poster showing routes and bus stops.
Right top: Bus tickets for each of the three routes.
Right bottom: Solar panels on the roof of Preston Bus Station, used to power the 100% electric bus fleet.

Two different PM monitors were used to collect information on different routes in Preston, Glasgow and London.
Left: AirBeam monitor
Middle: Graph showing PM data collected on a route in London on May 10, 2016.
Right: Prototype PM monitor being tested in Preston by one of the project volunteers in February 2016.
Next
Back to Artworks