Rebecca Chesney
Dandelion Project
Ongoing (since 2009)
I am interested in the symbolism of the dandelion and how it is represented in collections of material culture such as prints, textiles, ceramics and the decorative arts.
With its bright yellow flowers and 'clock' seedheads the dandelion (Taraxacum officinale) is easily recognised. Seen by many as a persistent weed, unwanted in lawns and the curse of garden boarders, this familiar perennial plant can provoke distaste and is usually labelled a common pest. However, as a symbol of hope in folklore and used for different types of superstitions, divinations and childhood games, the dandelion also enjoys fond associations with wishes, time telling and play.
This complex plant, with over 230 micro-species recorded in the UK, has many uses including as a diuretic, as a food (young leaves as a salad; roots made into a coffee substitute; or flowers made into wine) and as a vital early source of nectar and pollen for insects. I am also looking at how the European dandelion (Taraxacum officinale) has become an alien invasive species in Japan and is out-competing native Japanese dandelions.
In April 2010 I travelled to Japan on a research trip to collect specimens of European and Japanese dandelions. I also visited museum collections to look for the representation of dandelions in art.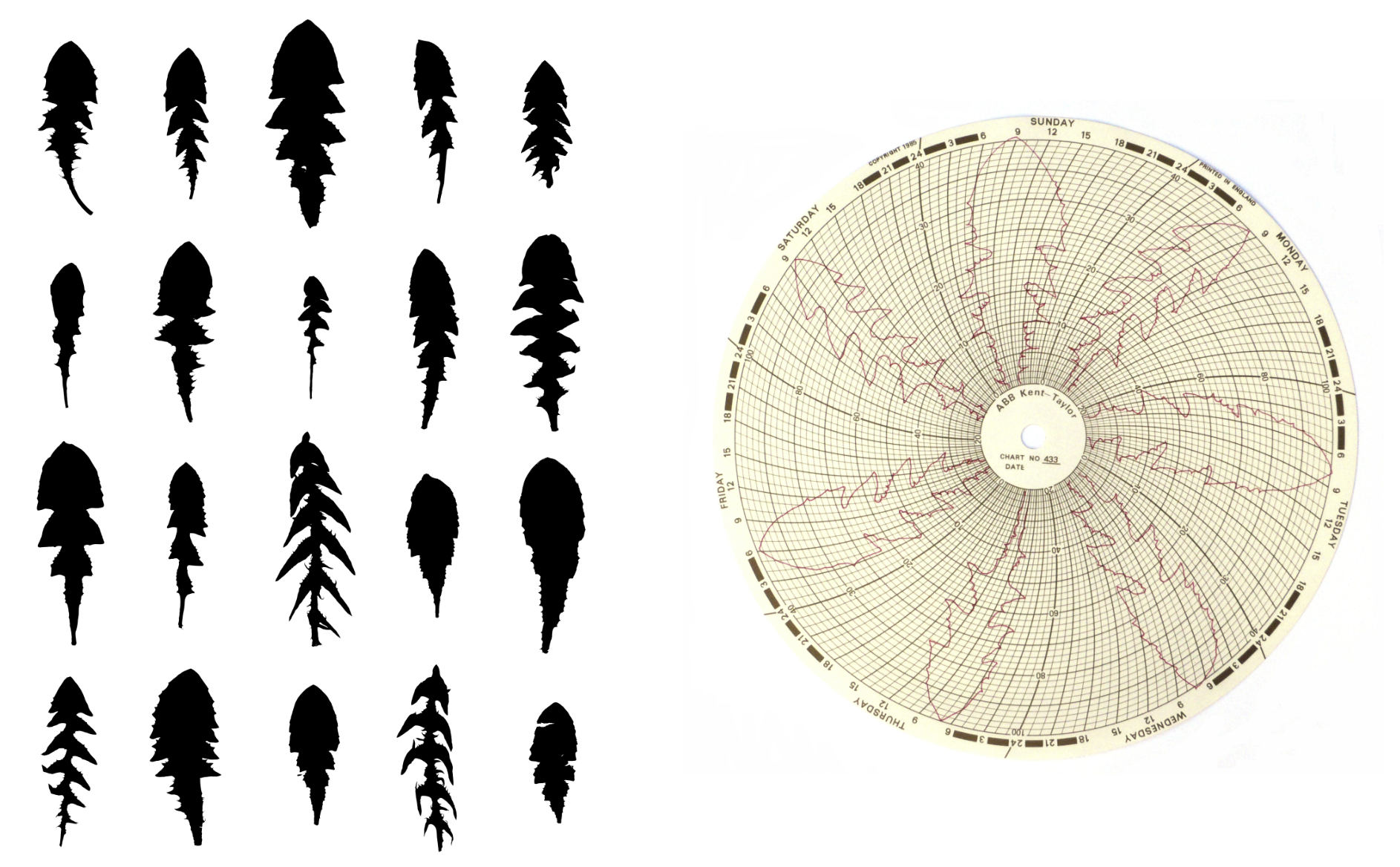 Top left:
Dandelion x 20
Screen print, 2012. 42 x 59 cm
Top right:
Week of Dandelions
Screen print, 2011. 28 cm diameter
Bottom:
Dandelion Diaries
For seven years between 2008 and 2014 I collected and pressed dandelion leaf specimens from everywhere I visited. Each specimen is archived in the diaries on the day of collection, noting the location and weather.
Dandelion Archive
From Albrecht Durer, Stanley Spencer, Helen Chadwick and Paul Morrison in art; to Kate Greenaway, Cicely Mary Barker and Walter Crane in illustration; photographer Anna Atkins; and designers William Morris and CFA Vosey each has studied, observed and delighted in the beauty of the dandelion. Representation of the leaves, flowers and seed head can be found in paintings, prints, drawings, ceramics, wallpaper, textiles and product labels. Sometimes the main focus of the design, but often placed in the background its inclusion is never accidental, but a deliberate conscious act.
I set up the The
Dandelion Archive
to collect objects and hold information on dandelions in art and material culture and to consider the motivation to deliberately include a dandelion in an artwork.

L-R: Majolica plate with dandelion design, made by Zell Factories in Germany; Nestle dandelion coffee, French; Villeroy and Boch ceramic tray, made in Luxemburg. All held in the
Dandelion Archive
.
Dandelions: Rustic Oracles
Harris Museum, Art Gallery & Library 2018
In 2018 I was invited to spend time in the Harris Museum archive to discover any objects in their collection connected to the theme of dandelions. For the exhibition objects from my
Dandelion Archive
and items from the Museum collection were placed in sixteen different locations within the displays and galleries for visitors to discover.

Installation views of
Dandelions: Rustic Oracles
Harris Museum, Art Gallery & Library in 2018 with items from the Dandelion Archive
Photographs Gavin Renshaw
Tanpopo Tour of Preston
Guided weed walk of Preston for In Certain Places 2010
Preston is host to intruders, aliens and escaped chancers - thriving alongside natives in back streets and adapting to the harsh, inhospitable conditions of the urban landscape. Have these inhabitants always been resident? Are they accidental tourists, perhaps the offspring of invited guests or a result of climate change? The Tanpopo Tour of Preston took participants to some of the weed hotspots of the city - revealing how plant species from all over the world have come to settle in this unlikely habitat.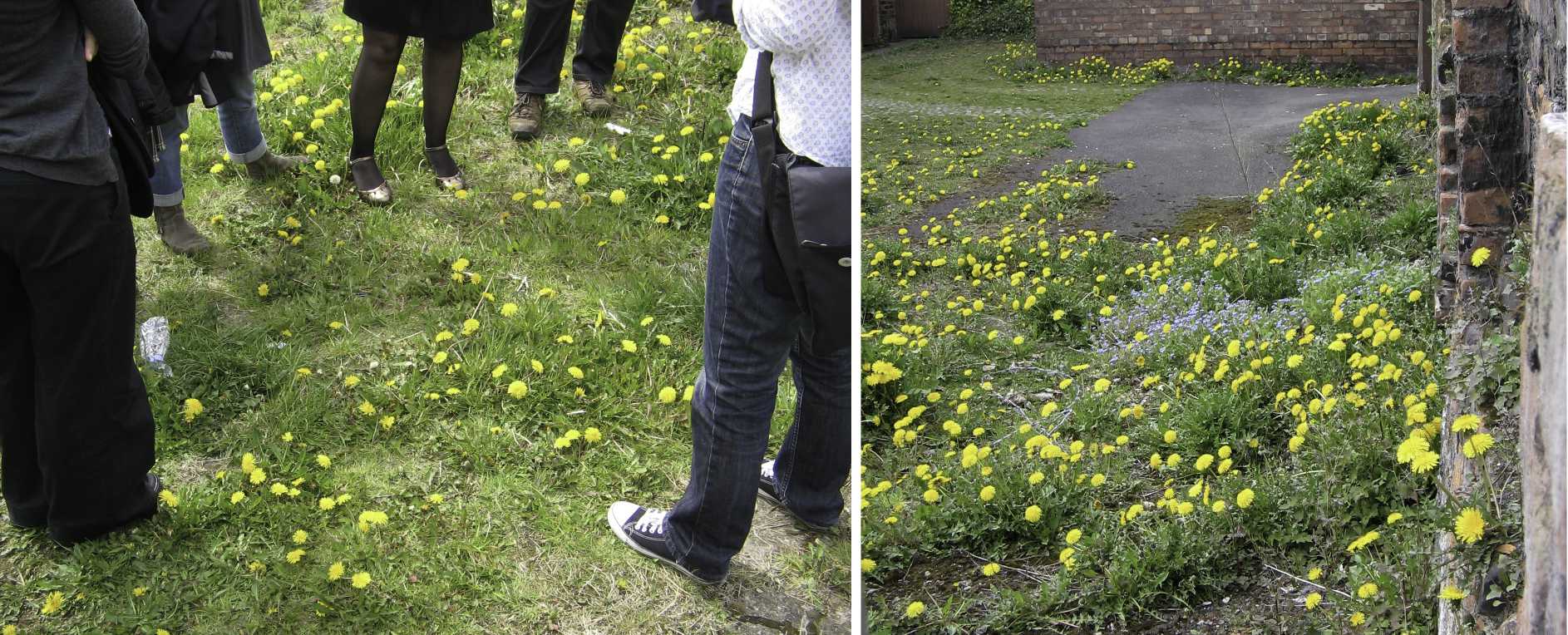 Photo on left by Andy Greenacre .
Please visit my
dandelion blog
for more information on the Dandelion Archive and my research about the subject.
Next
Back to Artworks